Money Tips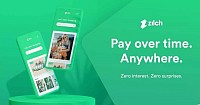 Zilch Pay Over Time
Money Tips
Here I offer some tips to save money.
If you shop online and In store and you see an item you like but not enough money to buy it there is an company called Zilch and once you join you can split the total price of your shop total into 4 payments made every 2 weeks for example if the item was £20.00 you only pay £5 first payment then 3 more payments every 2 weeks of £5.00 so help you with money to save.
Please View Videos Below how it works and how to sign up.
To Join click this link.