Uganda Blog Charity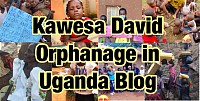 Kawesa David Orphanage in Uganda Blog
Uganda Kawesa David Orphanage Blog Charity
Uganda Kawesa David Orphanage Blog Charity
Kawesa David Orphanage in Uganda needs your help
Life in Uganda is so hard we have no money for foods.
We sleep on the hard floors we cannot afford 
Comfortable Beds and also clean water like we take for Granted in the west. So if you can help by donating Even £2.00 our more our what ever you can donate it would go an long way for foods for our Orphanage to feed the kids also need clothes so if you can help. There is an link below to our PayPal account it is not an scam Is safe to send as PayPal is protected from hackers. If you could donate before Christmas so we can worship our Baby Jesus Birth would be much appreciated.
Here is link to our PayPal Donation Page Please click link to view.
Here are some photos below of the Orphanage and Orphans People.
If you want see more photos and Videos please check out this album by clicking here.
This blog is not an scam if you want find out more information about this cause please contact Kawesa David our add as friend on Facebook.com Profile 
Our Kawesa David email address by clicking here
Videos Playlist
Here below there is an Videos Playlist of 5 Videos
Just Press Play and when 1st video is finished wait for 2nd Video to Start and so on till all 5 Videos Play.
Video 1: Kawesa David Orphanage in Uganda Blog
Video 2: Christmas Message Video
Video 3: Kawesa David Orphanage in Uganda Video Diaries 1
Video 4: Kawesa David Orphanage in Uganda Video Diaries 2
Video 5: Young Kid Getting Treatment for Head Injury Video Diaries 3